Veg Lasagne | Italian Lasagne Recipe | Easy Veg Lasagne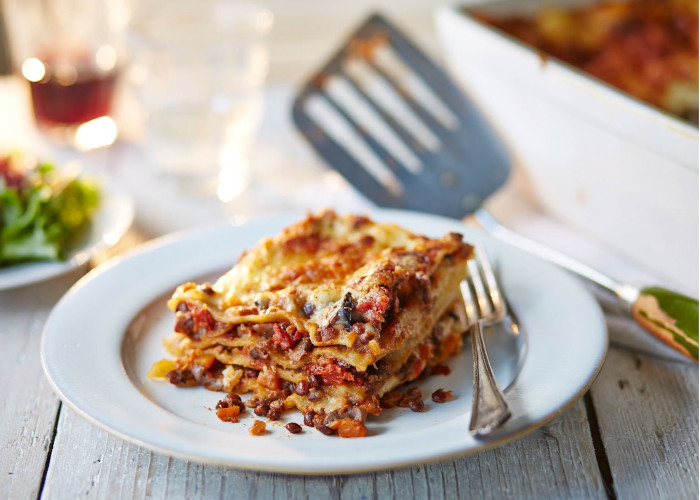 I feel Italian while pronouncing the word Lasagne as it sounds exotic and classy. The "la" "sa" and the "nya" in Lasagne (where the letter 'g' is silent) is so catchy. This dish also reminds me of the series – "Friends", where all the 6 of them are dying to find Rachel's engagement ring and Joey finds it from Monica's Cheesy baked Lasagne. Honestly speaking, that episode gave me the crave for this Italian food.
Pronounced in an exotic and gracious style, it tastes as cheesy and rich as it sounds. The layers of fillings with cheese all over as topping on the pizza sauce spread over lasagne sheets – together makes it a feast to the eyes and tummy. This drool worthy food is marvellously heavy that could easily knock off any hungry human. Cosi lasciaci cucinare la lasagane, ie, so let's make Lasagne.
INGREDIENTS
| | |
| --- | --- |
| MAIDA/PLAIN FLOUR | 1 ½ CUP |
| SALT | 1 TSP |
| OIL | 2 TBSP |
| WATER | AS REQUIRED |
| | |
| --- | --- |
| CHOPPED GARLIC | 2 TBSP |
| CHILLI FLAKES | 1TSP |
| OREGANO | 1TSP |
| OIL | 2TBSP |
| ONION CHOPPED | 1 SMALL BOWL |
| CARROT CHOPPED TO SMALL CUBES | 1 SMALL BOWL |
| BEANS CHOPPED TO SMALL PIECES | 1 SMALL BOWL |
| POTATOES BOILED CUT INTO SMALL CUBES | 2 |
| SALT | PER TATSE |
| BLACK PEPPER | 1TBSP |
| RED CHILLY POWDER | 1TBSP |
| SPINACH LEAVES CHOPPED SMALL | 1 SMALL BOWL |
| CORRIANDER LEAVES | 1 SMALL BOWL |
| PIZZA SAUCE | AS REQUIRED (BASE) |
| MOZARELLA CHEESE | AS REQUIRED (BASE) |
| WHITE SAUCE | AS REQUIRED (BASE) |
HOW TO MAKE VEG LASAGNE
FOR LASAGNE SHEETS –
Take the ingredients mentioned in Table 1 and knead it to smooth dough without cracks by adding water little by little.

As it becomes soft and round, divide it into four small portions and knead it round.

Then cover the divided balls of dough with a cloth for around 20 minutes so that it remains moist enough.

After that, take each ball of dough and using the rolling pin roll it into very thin sheets putting generous amount of dry flour to avoid sticking.
(If cooking in the pan, roll the sheets into the size of the pan)
After making sheets, keep it aside on a dry cloth or oven rack separately to dry, for around 30 minutes.
(Readymade Lasagne sheets can be used as an easy option.)
FILLING – 
In a pan, add the oil, chopped garlic, chilli flakes and oregano.  Saute them really well on medium flame for 2 min.

To that add the onion, carrot, beans, and potatoes and mix them well with the seasonings.

As it blends well, add salt, pepper and chilli powder along with spinach and coriander leaves.

Cook it for 2-3 minutes.
GARNISHING – 
If in a Pan, Spread evenly the pizza sauce and white sauce over it.

Take one Lasagne Sheet prepared and lay it on this. (If readymade rectangular sheets are used make sure to completely cover the base with several sheets side by side.)

Add some of the sauted vegetables and cheese thoroughly on top of the layer and grease them with white sauce. 

Place another layer of lasagne sheet, apply white sauce and pizza sauce and repeat the above step.

Repeat the method making at least three layers or till the sheet finishes and add more cheese on top and the remaining sauces.

If in a pan, cook it open for around 20 to 25 minutes in low flame.

If in an oven, close the baking tray with aluminium foil and cook for first 10 mins. Take off the foil and bake for another 8 to 10 minutes.
The Cheesy, Veggie and Yummy Italian Lasagne is ready. Let it cool for 5 minutes and is ready to be served. Cut it out in any shape, dung into it and experience the legacy.