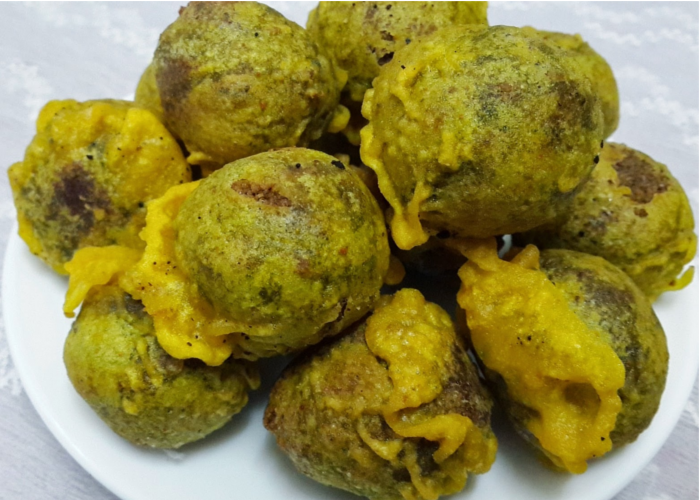 How To Make Sukhiyan Step By Step
            Sukhiyan is a Kerala snack passed on from generations. I came across the sweeter side of these healthy goodies through this snack and since then I couldn't resist a chance to have them. But, like any other snack, each household has its own version depending on personal tastes and on which part of Kerala you hail from. So on the annual celebration of the vegetarian lifestyle, here is a recipe for the protein-rich green gram, jaggery and coconut mixture hidden in beautiful yellow, crispy shells for all sweet tooths out there.
PREPARATION TIME: 1 HR
COOK TIME: 45 MINS
SERVING: 10-12
INGREDIENTS
All-purpose flour / Maida – 1 cup
Rice flour – 2-3 Tablespoon
Salt – for taste
Turmeric powder – a pinch Water as required
Coconut oil for deep frying
For filling
Green gram / Cherupayar – 1 cup
Jaggery – ½ cup, crushed
Grated Coconut – 1 cup
Cardamom powder – ¼ Teaspoon
INSTRUCTIONS
Filling Preparation:
Cook the green gram/ cherupayar with enough water and pinch of salt till water is completely drained off. (Do not overcook )
In a pan melt jaggery with ½ water; When it is melted completely, add the grated coconut; mix well and continue stirring.
When the mixture starts thickening, add cooked green gram, cardamom powder and mix well.
Continue stirring, till the mixture thickens completely; Remove from fire and allow to cool.
Then make small/medium balls out of the mixture.
Making Sukhiyan:
In a bowl, add all-purpose flour, rice flour, turmeric powder, salt, enough water and make a smooth and thick batter without any lumps; Set aside.
Heat coconut oil in a pan for deep frying; When it is hot, reduce heat to low/medium.
Dip each ball in the prepared batter and deep fry them in oil, till sukhiyan turns golden in colour.
Pair the hot snack with evening tea to welcome a delicious evening.