Mushroom Risotto Recipe | Italian Risostto Recipe | Easy Healthy Recipes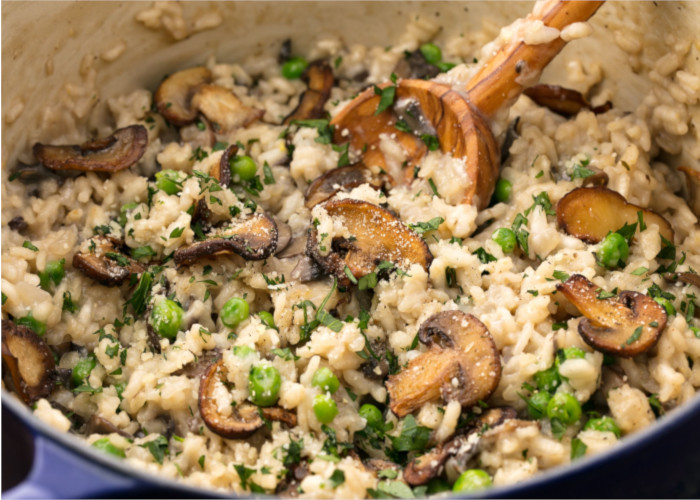 Mushroom Risotto is an Italian dish, which is very healthy and tasty. This classic Italian dish is cooked very slowly in a broth until the ingredients blend together to become a soft, cheesy and silky texture which just slides down the gullet. The main ingredient is arborio rice which is North Italian rice. This is a one pot dish which can be prepared as a wholesome meal. Arborio rice can be replaced with brown rice. Any variety of Risotto can be prepared with the vegetables of your choice.
INGREDIENTS
| | |
| --- | --- |
| ARBORIO RICE | 1 CUP |
| OLIVE OIL | FOR SAUTING |
| BUTTER | 2 TBSP |
| ONION CHOPPED | ¼ CUP |
| GARLIC CHOPPED FINELY | 4 CLOVES |
| VEG STOCK | 1 LITRE |
| CAPSICUM CHOPPED | ½ CUP |
| MUSHROOMS CHOPPED | 1 CUP |
| FRESH CREAM | 3 TBSP |
| CHEESE GRATED | ¾ TBSP |
| SALT | PER TASTE |
| PEPPER | PER TASTE |
| OREGANO | PER TASTE |
HOW TO MAKE
In a pan, add olive oil and butter and let it melt.
As it melts, add onion, garlic and capsicum and saute them well.
When the ingredients turn lightly brown, add the Arborio rice and pour the vegetable stock.
Let it boil and cook on a slow flame. Stir occasionally until half cooked.
Then add salt, chopped mushrooms and capsicum.
When the water evaporates and the dish reaches the required consistency (semi solid)and leaves the side of the pan, add fresh cream, grated cheddar cheese, salt and pepper.
It is ready to be plated. Garnish it with oregano and herbs of your own taste.