Masala Poori Recipe and sambar
Valentine's Day special combo
Masala poori is the spicy version of the poori. It can be served as a main course for breakfast or a tea time snack. This dish is a typical Guajarati dish which can be enjoyed by everyone beyond the borders. The Masala poori can be paired with the South Indian curries as well. It is a softer version of the usual crispy poori.
Prepare time: 45 min 
Cooking time : 15 min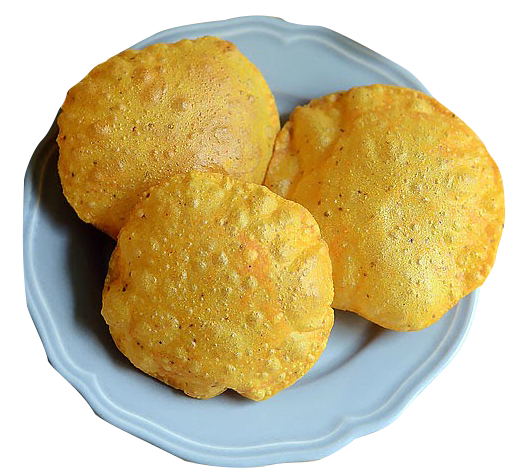 INGREDIENTS
| | |
| --- | --- |
| Whole wheat flour | 1 1/2 cups |
| Semolina | 1 1/2 tbsp |
| Turmeric powder | 1/2 tsp |
| Brahmins red chili powder | 1 tsp |
| Coriander powder | 1 tsp |
| Carom seeds | ½ |
| Asafetida | 1/4 tsp |
| Fenugreek leaves | 1 1/2 tbsp, crushed (optional) |
| Sugar | 1/2 tsp |
| Salt | to taste |
| Oil | |
| Water | To make poori dough |
Put the wheat flour, chickpea flour, semolina, carom seeds, turmeric powder, red chili powder, coriander powder, asafetida, fenugreek leaves, sugar and salt.




Add hot oil and mix well into the flour mixture. Add water to form, slightly firm dough.




Let it sit for 20 minutes.




Shape them into round balls. Coat the working surface as well as the rolling pin with a little oil.




Heat oil in a heavy bottomed vessel till hot. Very gentle pressure press with the back of a slotted ladle till it puffs up.




Flip over the poori and allow to cook for a few seconds till it attains a light golden shade.




Prepare pooris with the rest of the balls and serve warm.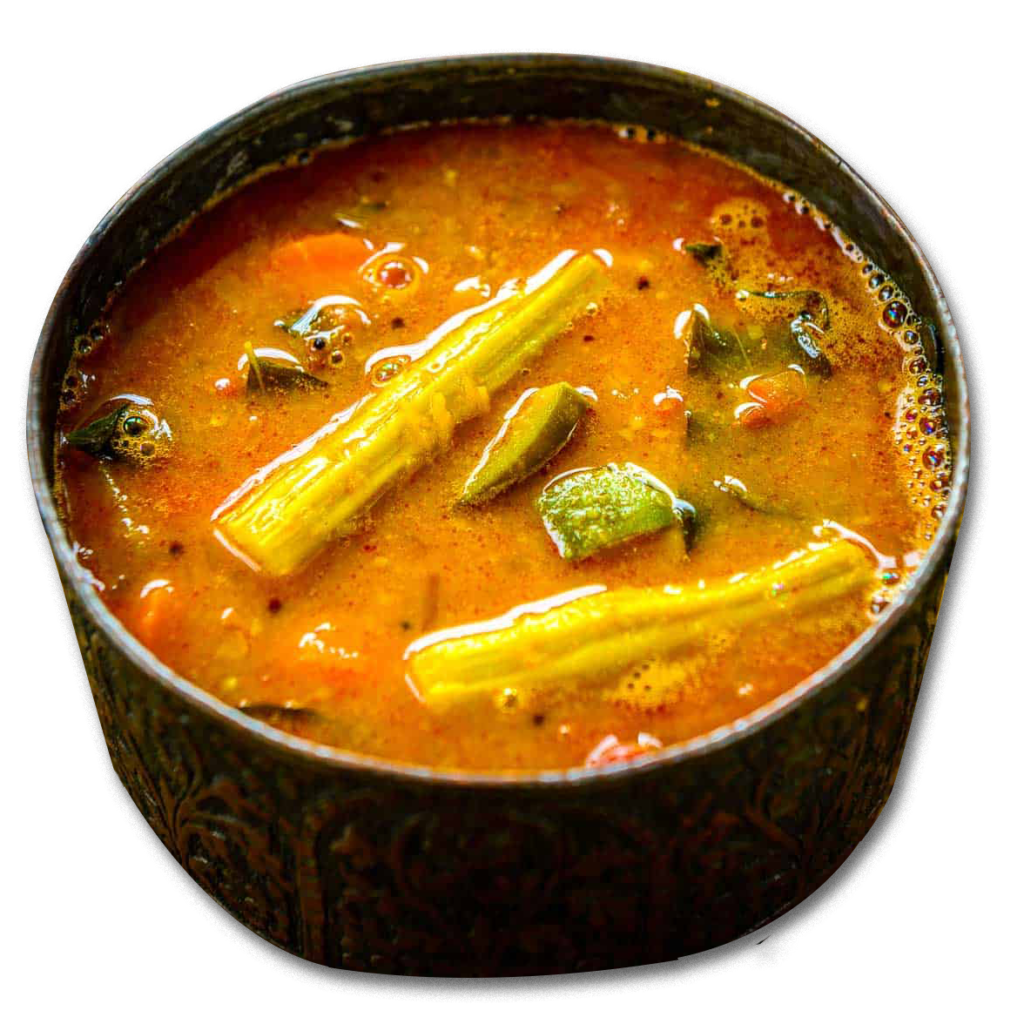 The very famous dish 'Sambar' is everyone's favorite. For the south Indians a food course is not complete in the absence of Sambar. Cooking Sambar is a very easy task with the of Sambar powder. The Brahmins sambar powder makes it easy to prepare and delicious to eat. Brahmins sambar powder preserves the authentic taste of the sambar.
Prepare time: 45 min 
Cooking time : 15 min
| | | |
| --- | --- | --- |
| 1 | Hur dal | 200 gm |
| 2 | Pumpkin | 100 gm (2cm squares) |
| 3 | Ash guard | 150 gm (2cm squares) |
| 4 | Potatoes | 2 small (2cm squares) |
| 5 | Yam | 100 gm (2cm squares) |
| 6 | Tomatoes | 2 pieces (2cm squares) |
| 7 | Carrots | 1 small (2cm squares) |
| 8 | Okra | 4 inches (2 inches long) |
| 9 | Drumsticks | 2 in number (2 inches long) |
| 10 | Green chilies | 2 nos |
| | | |
| --- | --- | --- |
| 11 | Nutmeg – a small piece / Nutmeg powder | 1 tbsp |
| 12 | Tamarind | soaked in water the size of a gooseberry |
| 13 | Brahmin's Sambar Powder | 4 tbsp |
| 14 | Fenugreek | 1 tsp |
| 15 | Mustard | 1 tbsp |
| 16 | Dried chillies | 6 |
| 17 | Neem stalk | 2 |
| 18 | Coriander | a handful |
| 19 | Coconut oil | 2 tbsp |
Wash the Thur dal, add 2 cups of water and cook in a pressure cooker for 2 whistles.

When the dal is cooked, add the second and third ingredients, add enough salt and a cup of water and cook.

Then heat the coconut oil and add the fifth ingredient and 4 tbsp Brahmin sambar powder

Add 1 tsp chili powder and chop finely.

Cook the veggies separately. Then add the mixture to the cooked pieces of vegetables.

Add and close the cooker, and when the whistle blows, turn off the gas.

The Delicious Sambar is read