Mango Pullishery Recipe | Mambazha Pulishery Recipes | Kerala Mango Pullishery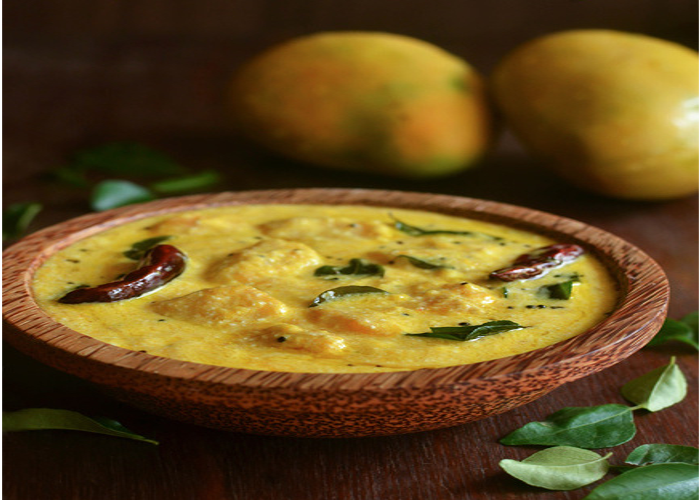 Summer or winter, rainy or sunny, festivals or no festivals, food is inescapable. I have always wondered how my nose catches the fresh aroma of Amma's food just as she starts preparing something yummy. Especially, if its typical Kerala food I rush down the stairs like Ussain Bolt. One among my favourite curries of Kerala specials is Mambazha Pullishery, Manga Pullishery or Mango Pullishery. What is eating rice without the rich smooth yellow curry poured and mixed with bare fingers?

Mangoes-the Highness, raw or ripe is always an exciting fruit that brings out the mischievousness and tender happiness to us. Plucking raw mangoes, chopping it into cubes and with teary burning tongue we enjoy its sourness sprinkled with chilly powder and salt. Among the most awaited pickles/achar, jam/pulp and curries, the most important is Manga Pullishery made from small munching ripe mangoes.

Close your eyes, take a deep breath and think of manga pullishery if who have tasted it- this tangy sweet and sour curry automatically appears in front of our eyes. I can see the beautifully poured pullishery in a white bowl, with seasoned mustard and dried red chillies resting on top of it, as garnish and feel the aroma of the ripe mangoes, curd and coconut oil. Its mesmerising. A plate of hot rice with this heavenly pullishery and any pickle makes the day worthy. Oh Yes, as you serve yourself with this yellow deliciously rich curry, make sure to get the privilege of owning a whole mango with seed from this dish. Get it, squeeze it and pour it down to your mouth and lick the fingers.

In Kerala, you can get varieties of mangoes in the Summer season. Don,t worry if you do not have small munching mangoes, try it with ripe mango pieces – fresh/tinned.
INGREDIENTS

SMALL RIPE MUNCHING MANGOES (WHOLE)
OR
RIPE MANGO CUBES/ TINNED RIPE MANGO PIECES
6 NO,S

1 CUP or 15 cubes
GREEN CHILLIES
6 NO.S
CHILLY POWDER
1 TEASPOON
TURMERIC POWDER
1 TEASPOON
WATER
2 CUPS
CURRY LEAVES
ONE HANDFUL
CUMIN SEEDS
1 TEASPOON
GRATED COCONUT
2 CUPS
THICK CURD (SLIGHTLY SOUR) BEATEN SMOOTH
500 ML
COCONUT OIL
2 TABLESPOONS
MUSTARD SEEDS
1 TABLESPOON
FENUGREEK SEEDS/POWDER
1 TEASPOON
DRIED RED CHILLY
4 NO.S
Wash and clean the small mangoes; Peel the skin off and keep the whole mango with seed for cooking. (If small munching mangoes are not available big ripe mango pieces can also be used.)
Take a thick bottom wide pot or an earthen pot.
Put the mangoes, ½ teaspoon turmeric, 3 chillies split, 1 teaspoon chilly powder, 2 teaspoon salt and some curry leaves into the pot. Add 2 cups of water and cook with lid, on a medium flame until the mangoes are cooked.
Grind the grated coconut, cumin seeds, the remaining green chillies and turmeric powder into a very smooth paste. (Thick coconut milk can be used where fresh coconut is not available and replacing cumin seeds with cumin powder.)
Once the mangoes are cooked add the coconut paste, ¼ cup of water and stir constantly on a medium flame.
When it starts to froth slightly from the sides, lower the flame and add smoothly churned curd.
Stir the Pullissery constantly, only in one direction for a few minutes. Maintain the thick consistency of the gravy.
When bubbles begin to appear at the edges of the pot, sees small steam before boiling, put off the flame and keep the pot closed. Take care not to boil the gravy, which is very important.
In a pan heat the coconut oil. To this add dry red chilly, mustard seeds, fenugreek seeds and some curry leaves and wait until the mustard sputters. Turn off the flame.
Pour this seasoning on the Pullissery and close the lid immediately to retain the fragnance.
The smooth velvety sweet and sour spicy Pullissery is ready to be served.
Don't miss the heavenly aroma while you lift the lid.
This goes best as a main dish to be poured over rice.