Traditional Kerala Erisheri | Pumpkin Erisheri Recipe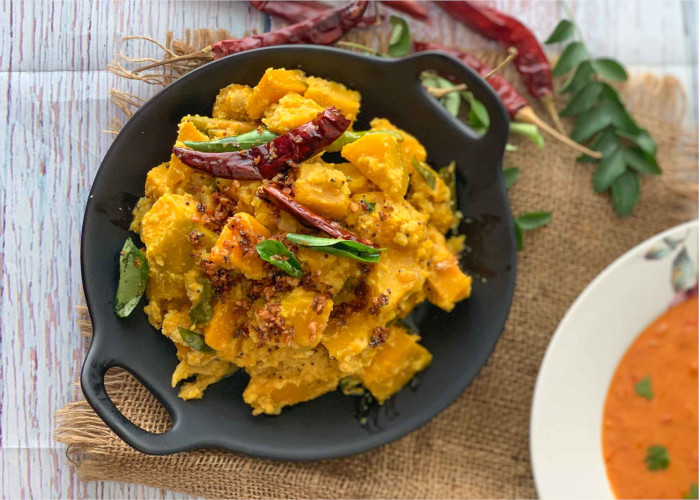 Kerala boasts of a splendid range of food, and reaffirms its tastes even when it comes to foods that have come all the way from other states / nations or even continents. It must also come as a surprise to realize that the authentic Kerala cuisine is mostly vegan, a speciality which can only be found in the local dishes of Kerala. Erissery is an all-time favourite item in Kerala. This traditional flavoured Kerala cuisine is generally made for festivals and special feasts like Onam and Vishu. This delectable vegetarian recipe is a combination of pumpkin, yam, red beans, coconut, spices and some tempering served as a side dish to hot steamed rice or brown boiled rice.
Prep time : 10 mins
Cook time : 30 mins
Servings : 4
INGREDIENTS
Yam – 1 cup
Pumpkin – 2 cups
Turmeric powder – 1 tsp
Chilli powder – 2 tsp
Cumin powder – 1 tsp
Salt to taste
Black eyed peas – ½ cup
FOR GRINDING:
Coconut – 1 cup
Green Chillies – 2
Cumin Seeds – 1 tsp
FOR SEASONING:
Coconut Oil – 2 tblsp
Mustard seeds / Kaduku – 1 tsp
Urad dal – 1 tsp
Dry Red chillies – 2
Curry leaves a sprig Coconut – 3 tblsp grated
INSTRUCTIONS
Soak black eyed peas overnight. Cook in pressure cooker for 4 to 5 whistle. Let the pressure release by itself. Open and set aside.
Take grinding ingredients to a smooth paste. Set aside.
Take vegetables in a pan. Season with salt and turmeric powder and cook till vegetables is cooked.
Add in cooked peas and mix well. Add in spice powders and mix well.
Add in ground paste and cook till the masala is thickened.
Heat oil in a pan, add in seasoning ingredients and let it sizzle.
Add in coconut and cook till golden.
Add the seasoning and mix well.
Serve to your friends and family over lunch, brunch or dinner along with rice or roti as a quick healthy delight to your taste buds.