Inji Curry / Ginger Curry
Inji Curry Recipe | Sadya Inji Curry Recipe | Sadya Dishes Recepe | Kerala Inji Curry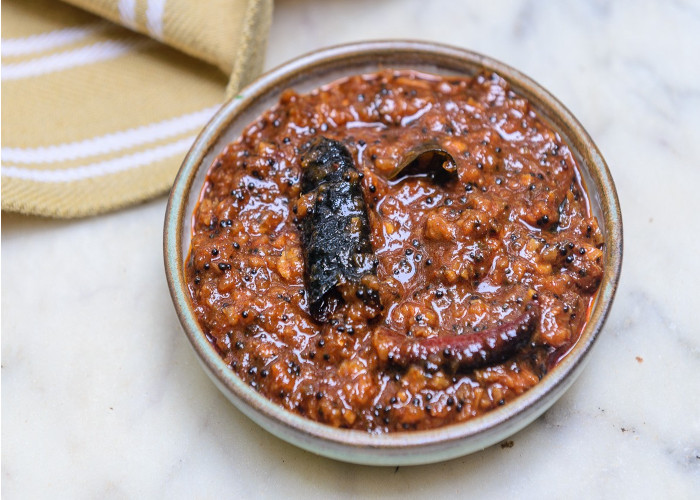 Inji curry / Inchi curry or the Ginger curry is an inevitable element of Kerala Sadya. The hot pungent taste of ginger and chilli with sweet and sour gravy is also called Inji puli. One finger dip of inji puli brings a blast of tastes in your mouth which makes you say "snpjcha". A touch of this Ginger curry relieves you from the heaviness of very sweet 'payasams' in a sadya. Inji curry is considered as equivalent to 101 curries. Yes, Inji curry and curd is just what you need with boiled rice to have a fulfilling lunch.  A folklore says that a clever girl (Parayi) was challenged by a Brahmin and Pandit Vararuchi, who visited her hut in a forest to prepare him a feast with 101 curries in a limited time i.e. when he returns from a dip in the river nearby. The smart girl prepared Inji curry and the Brahmin fell before the cleverness of the girl and married her. Apart from the taste, Ginger curry is good for digestion when you consume many curries and payasams with different pH levels in a feast.
INGREDIENTS
| | |
| --- | --- |
| GINGER (PEELED AND CUT INTO THIN ROUND SLICES) | 250 gm |
| GREEN CHILLIES | 5 NO.S |
| KASHMIRI CHILLI POWDER(BRAHMINS) | 3 TEASPOONS |
| CORIANDER POWDER (BRAHMINS) | 2 TEASPOONS |
| COCONUT OIL | 200 ML |
| GHEE (OPTIONAL) | 2 TEASPOONS |
| TAMARIND PULP | 2 TABLESPOON |
| JAGGERY POWDER | 1 TABLESPOON |
| SALT | TO TASTE |
| WATER | 400-500 ml |
| MUSTARD SEEDS, RED CHILLIES AND CURRY LEAVES  | (FOR SEASONING) |
HOW TO PREPARE
In a pan add the coconut oil, ghee and deep fry the ginger slices until crisp and golden.

Remove from oil, strain and let it almost cool.

Grind the crisp ginger slices coarsely in a mixer.

Remove the remaining oil from the pan.

Mix the tamarind pulp and jaggery in 3 cups of water. Strain and keep aside.

Saute the chopped green chillies and some curry leaves in 3 tablespoons of oil for 2 minutes.

Simmer the flame and add the chilli powder and coriander powder.

Saute well for half a minute and take care not to burn it.

Immediately add the tamarind-jaggery water, stir and boil well.

Add the ground ginger and salt to taste.

Stir well and let it boil until the gravy thickens.

Season the Inchi curry with fried red chillies, mustard seeds and curry leaves.
Inji/Inchi curry is so delicious that it outstands any other curry of a feast. Taste a little of this sour, salt, hot and sweet, ginger curry and I can hear your "snjpcha…".