Eggless Chocolate Pancake
EASY PANCAKE RECIPE | EGGLESS PANCAKE RECIPE | CHOCOLATE PANCAKE RECIPE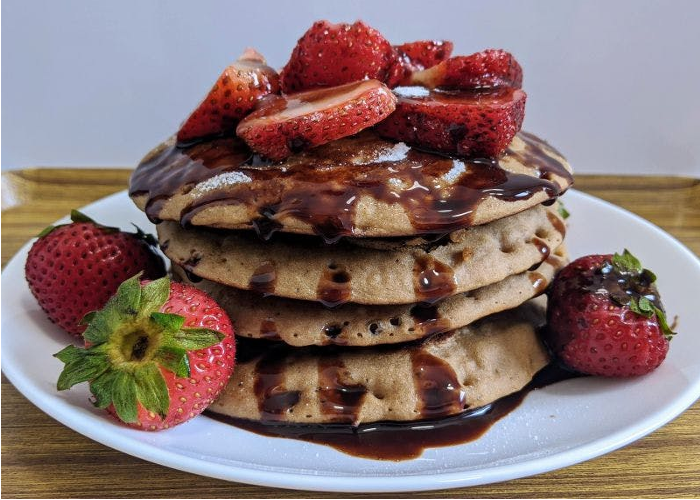 It is very normal to get excited over drizzling milk chocolate sauce flowing down from silky smooth pastries and cake with strawberries and raspberry garnish. Chocolate is a mood enlightening flavour. Its pure sweetness, sourness, and bitterness bring out the happiest moods among people. Chocoholics being infinite in this world so does the recipes and menus of chocolate amalgams.
Drooling over fluffy spongy chocolate pancakes is honestly overwhelmingly delightful. Pancakes, the mainstream of aesthetic photography, is quite a desiring dessert to everyone out there. Served in a white bowl, with chocolate sauce all over with berries bringing out their beauty, that cannot be resisted by anyone's tummy.
Wanna have some breakfast in bed, after making it by yourselves and going back to bed and serve yourself? Then Chocolate Pancakes suits here. Let us get this started.
| MILK | ½ CUP |
| --- | --- |
| VINEGAR | 1 TBSP |
| WHEAT FLOUR / ATTA | 1 ¾ CUP |
| BAKING POWDER | 1 TSP |
| BAKING SODA | ½ TSP |
| COCOA POWDER | ¼ CUP |
| POWDERED SUGAR | ¼ CUP |
| HOT WATER | 1/3 CUP |
| VEGETABLE OIL / MELTED BUTTER | ¼ CUP |
HOW TO MAKE PANCACKE
In a bowl, mix the milk and vinegar and keep it aside for 5 mins.
In another bowl add the wheat, baking powder, baking soda, cocoa powder and powdered sugar.
Mix them thoroughly to make it smooth and dusty.
Now add the milk mixture to wheat bowl. Then add the hot water and vegetable oil/melted butter to the same.
Mix all the ingredients together and make a batter.
Take a non-stick pan and set the flame low. Brush a bit of oil/melted butter over the pan.
Scoop from the batter and pour it onto the pan. (Pour the next one as one gets cooked.)
Cook it in low flame and as air bubbles appears, flip and cook the other side.
In less than an hour, we made a fluffy soft chocolate pancakes. It tastes much yummier with ice-cream, chocolate syrup or chocolate sauce.