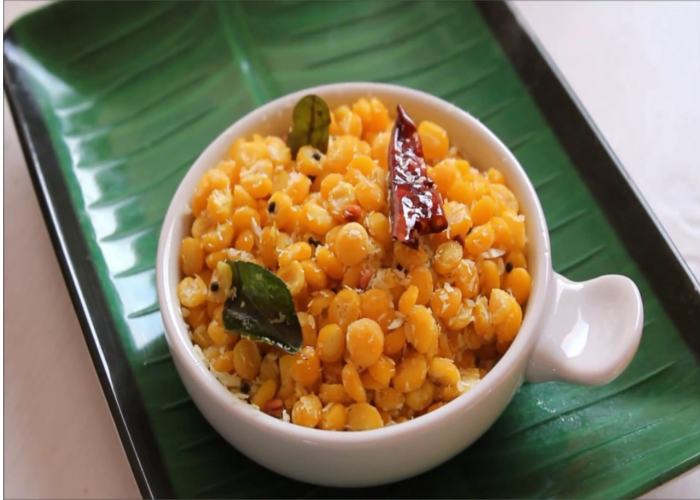 Sundal is a tempered and sautéed dry dish made with legumes and peanuts. It is a famous South Indian dish and is especially prepared everyday for 9 days during Navratri. Channa Dal Sundal is one among the different traditional Sundal recipes. It can be served as a side dish with the main course or you can just have them as a snack. Made with channa dal, grated coconut, curry leaves and asafoetida (kayam), this snack recipe has an amazing flavour and would be a bliss for all the South Indian food lovers.
PREP TIME: 2 HRS
COOK TIME: 30 MINS
SERVING: 4
INGREDIENTS
1 Cup Split Bengal Gram (Channa Dal / Kadalaparippu)  – soak for 2 hours
1 Green chilli
1 tbsp Grated Coconut
1 tsp Salt (Adjust As Needed)
1 tsp Oil
1 tsp Mustard Seeds
a Pinch Asafoetida (Kayam / Hing)
Few Curry Leaves 
INSTRUCTIONS
Heat the pan, add the dal and water to soak the dal. Add salt and cook the dal till it is soft but not mushy.
Now heat the oil in the pan, and add mustard seeds. When the mustard seeds begins to sputter add curry leaves and a pinch of asafoetida (kayam).
To this add the cooked channa dhal and mix it thoroughly. Finally add the grated coconut and then mix it well.
Have it with evening chai for a healthy twist.