AVIYAL–A MOUTHFUL OF VEGETARIAN DELICIOUSNESS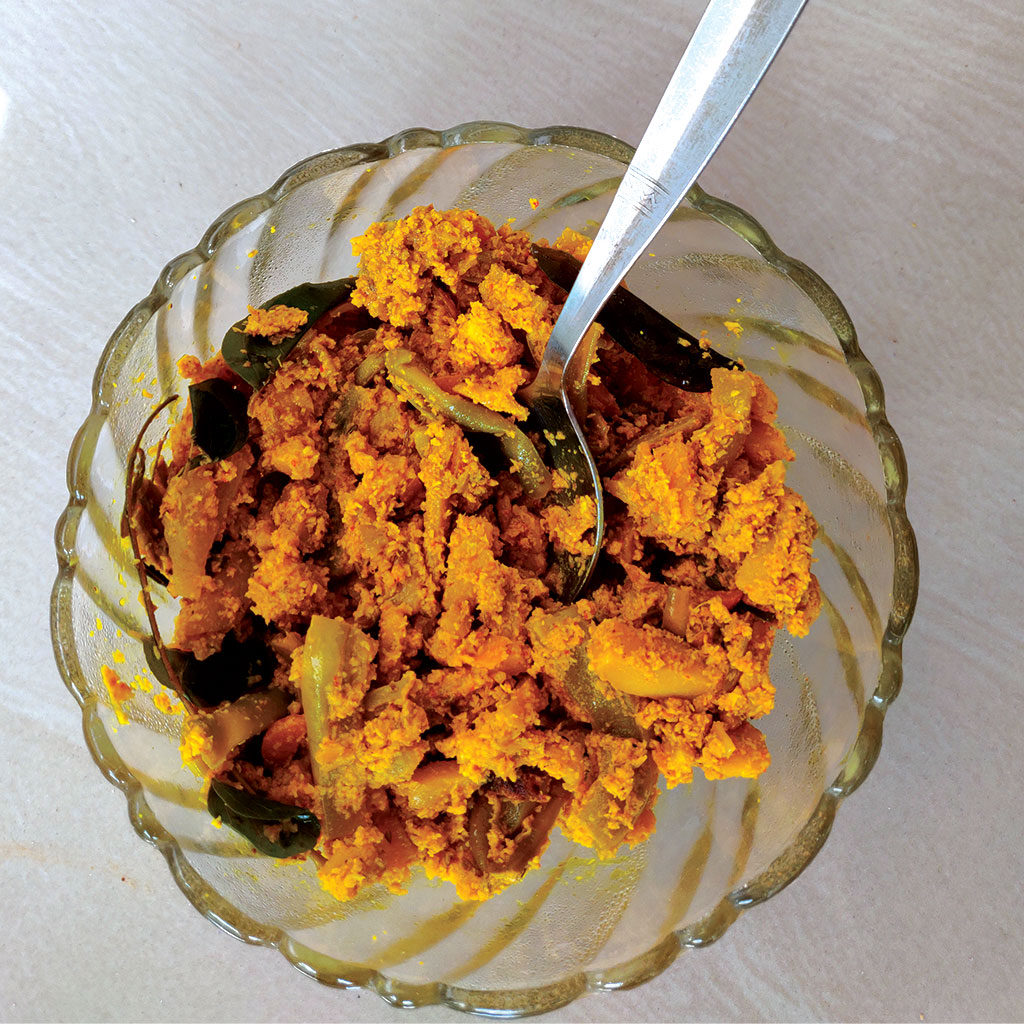 Is it not mandatory for every Malayali to visit their homeland, experience the authentic traditions and have a truckload of grandma's toothsome food that give you a wholesome meal and probably end up in some burps? For the people of Kerala and Tamil Nadu, a traditional south Indian
delicacy referred to as Aviyal, serves this purpose. Often considered the major accompaniment in the Sadya or the traditional Kerala vegetarian feast during festivals like Onam and Vishu as well as for major occasions like weddings, it is a mixture of locally sourced vegetables with grated coconut and seasoned with coconut oil. This native dish originated years ago at a King's feast where it was served by cooking leftover vegetables and now, it is an inevitable part of any Malayali's diet. Aviyal is healthy, yummy and perfect for the tummy.The popularity of Aviyal among the southern states of India has also resulted in its several variations across the lands. These variants are often made with jackfruit, spinach, raw mango, and even eggs, which are all delicious and are must-try dishes. To have a complete experience, this tender, juicy Aviyal must be paired with some hot, steaming rice, soaked in a generous spoonful of sambar with a pappad, curd and pickle. Instead of drooling already, why not try making some? Let's prepare Aviyal.
1

Cucumber/Ash gourd

250gm

2

Snake Gourd

250gm

3

Elephant foot Yam

250gm

4

Raw Banana

1no.

5

Long Beans

5no.s

6

Carrot

2no.s (medium size)

7

Drumstick

1no.

8

Green Chilly

6no.s (to taste)

9

Cumin Seeds

½ teaspoon  

10

Shallots

4no.s

11

Coconut Grated

2 cups

12

Turmeric Powder

1 teaspoon

13

Raw Mango Chopped 

Or

Lemon Juice

Or

Tamarind Pulp

1/4cup




2 tablespoons




2 tablespoons

14

Salt

2 or 3 teaspoons (to taste)

15

Coconut Oil

3 tablespoons 

16

Curry Leaves

½ cup
Chop all the vegetables, mentioned from 1 to 6 into about 5cm long and 1cm thick slices.

Cut the Drumsticks into about 7cm long pieces.

Wash the pieces of all vegetables separately and drain the water completely.

Take an earthen pot or a thick bottom vessel; put the chopped Yam and Banana pieces into it and add ½ cup of water.

Cook on a medium flame   with lid on for about 3 minutes.

Now add all the chopped vegetables and put Salt, Turmeric Powder and 2 Green Chillies split.

Add ¼ cup of water, close the vessel and cook for about 5 minutes on medium or low flame. Take care not to burn the vegetables.

Add the Raw Mango pieces

or

Lemon Juice

or

Tamarind pulp to the vegetables. Put some Curry Leaves and close the vessel and cook for another 3 or 4 minutes.

Meanwhile grind coarsely the Grated Coconut, Cumin Seeds, Shallots and Green Chillies in a mixer or grinding stone adding 3 or 4 tablespoons of water.

When the vegetables are soft and perfectly cooked add the ground Coconut mixture, stir gently and cook it for 2 or 3 minutes in low flame, until all the excess water gets evapourated.

Add generous amount of  Curry Leaves and 2 or 3 tablespoon of fresh Coconut Oil on top.

Close the vessel with the lid or a banana leaf.
The Aviyal is almost ready to be served. Leave it for some time so that the aroma of the Curry Leaves and Coconut Oil blends into the vegetables.  Slowly lift the lid, the aroma of the exotic Aviyal makes you madly hungry. Stir gently so that the coconut oil is evenly blended into the Aviyal. So be prepared with perfectly boiled rice, sambar and curd so that you can enjoy a small feast yourself.